Mom's Tipsy Trivia: Schitt's Creek - Astoria
April 12, 2023 07:00 PM until April 12, 2023 10:00 PM
Do you ever feel like you're stuck in an Avril Lavigne lyric? Do you know how to fold in the cheese when recreating Moira's Aunt-chiladas? It's time to test your knowledge on all things 'Schitt's Creek' at Mom's Tipsy Trivia in Astoria and you'll have a chance to win prizes. Join Mom's every month for a trivia night featuring several rounds.
Enjoy themed cocktails and a whole vibe - dressing up as Moira, Randall, David or Twyla is optional but encouraged. Full food menu and cocktail menu will be available.
Indoor seating is limited and guests can be accommodated in outdoor seating as well.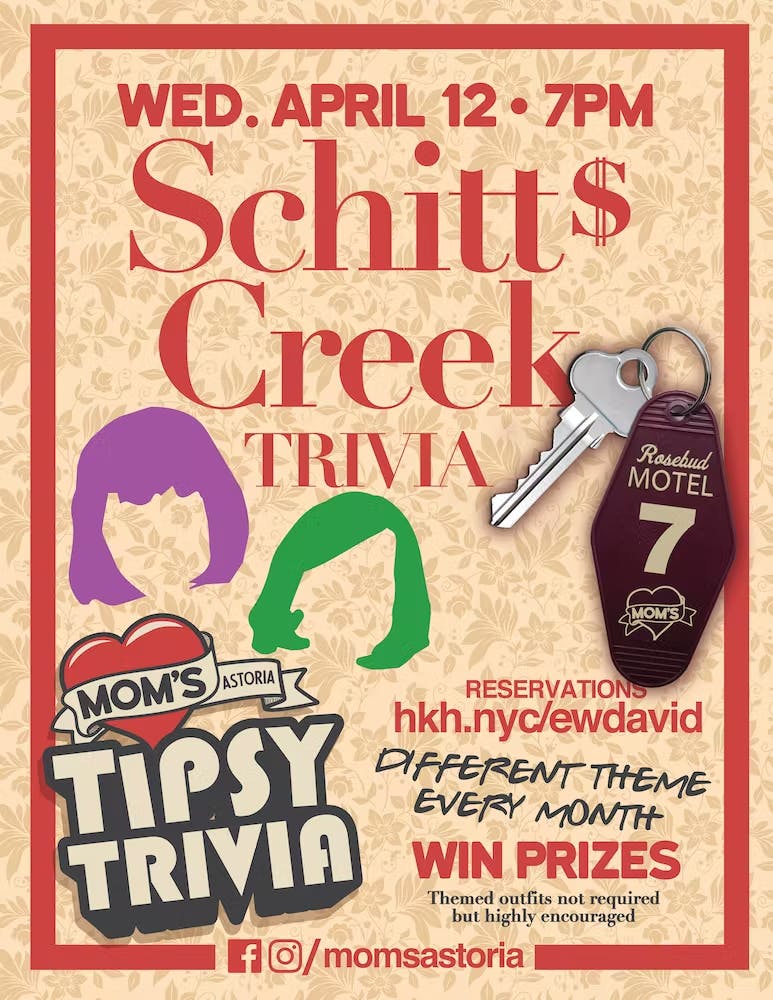 _____________________________________________________________________
The best way to reserve tickets is by selecting a team captain and having them be in charge of tickets for ALL team members.
For example, if David, Alexis, Moira & Johnny are a team and Moira gets put in charge, they will then reserve tickets for themself, David, Alexis & Johnny = (4) in total.
PLEASE ONLY RESERVE SINGLE TICKETS IF YOU ARE PLAYING BY YOURSELF. We will send a confirmation email to everyone closer to the event.
Tickets

(opens in a new tab)